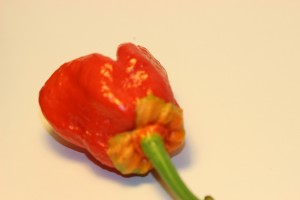 Ingredients:
8 Serrano peppers
2 Jalapeños
2 Habaneros (Scotch Bonnet)
1 1/2 Shallots
1 Clove Garlic
1/c cup Water
Little Salt
1/2 cup Orange Juice (I used concentrate)
Directions:
Cut up all peppers, shallots, and garlic into chunks. Put everything, except Orange Juice, in a blender and blend well. Add Orange Juice and blend a few seconds.
…by Richard Elzey